You could be your own worst enemy when it comes to interviewing as an undergraduate.
"Sell yourself" has been hammered into our head countless times by professors and advisers. We've all heard the job interview pep talk, but is there a chance we upperclassmen and recent graduates are selling ourselves the wrong way?
Is magnifying our skill-sets and experiences so that recruiters can see we're "unique snowflakes" an effective method of proposing our value? When we simply rely on selling ourselves, or even "overselling", could we actually be selling ourselves short?
Let's hit the lab.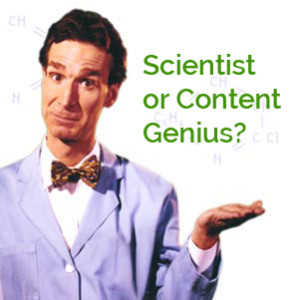 Ask a question. 
The art of asking a question: an important action many people fail to do because they fear they will find embarrassment or failure when doing it. Similar to the scientific method, asking a question is the foundation of selling yourself to employers and just about anyone else. Ask yourself: who am I? What principles do I stand for? Where am I trying to go, and who do I want to be when I get there? How will I get there?
Setting a personal mission and vision statement and declaring a goal for your first job, or even a lifetime goal, lays the groundwork for successfully selling yourself. How can you expect to achieve an external 'win' through selling yourself to another person when you haven't even achieved an internal 'win' by defining your character and dream? If you're struggling here, it's time to quit hitting the college bars and start hitting the books, writing your ideas and aspirations in a journal, and ultimately defining the basis for selling yourself for your dream job.
Then ask for more. When's the last time you admitted you didn't know what you were doing, then asked for help? This aspect goes beyond entry-level interviews, as having the degree of humility necessary to ask for guidance can garner the wisdom needed to succeed at any stage of of your career. If you want to grow, you will have to learn something new, and the universe won't simply hand it to you on a silver platter: "Here's your dream manifested!".
Asking implies learning, learning implies listening, and listening implies two-way communication. So, ask for the opportunity to meet someone by smiling and extending your hand; ask for the opportunity to connect with a valuable contact by requesting their business card; ask for the opportunity to stand out by courageously imposing liberating charm and enthusiasm about the room; ask for the opportunity to be mentored from seasoned and successful professionals in your area of study. Did you know, according to the U.S. Bureau of Labor Statistics, about 70% of jobs are found through networking?
Ask for the opportunity to learn from other people, and they may kindly do some of the selling for you.
State the problem. 
Think about the traditional way we've been taught to interview: you skim over the most prominent bullet-points related to the position and elaborate on them further. You might even cleverly package your storytelling to the questions asked. Then swap roles briefly by asking some inquisitive questions about the company. As long as you're genuine about it, the questions serve the purpose of showing you're interested in the company and listened to the interviewer. This seems to cover everything, so what's the problem?
The problem is you probably failed to state certain things that aren't usually on college resumes.
On your resume, you most likely have your schooling and GPA, job experience, extracurricular activities, and a miscellaneous section we call "additional skills". The statements used to sell during the interview typically follow the resume as a script, with brief descriptions of the parts the interviewer chooses to focus on. Are these the only criteria that matter? If not, what statements could help us guide and adjust the focus of the interviewer?
Highlight the percentage of your finances for which you're totally responsible. When mister 3.6 GPA whose Mommy and Daddy pay for all his expenses matches up with mister 3.1 GPA whose burdened with 100% of his finances through college, all other things held constant: an experienced employer may have more difficulty with their hiring decision.
Financial responsibility isn't the only counterweight to academic performance. Be sure to stress charitable volunteering to demonstrate your service to a cause "bigger than yourself". Additionally, mention any freelance services you've provided to small clients, such as designing a logo for student entrepreneurs for free, or doing social media marketing for a small start-up. Even if similar opportunities have simply been offered to you and not acted upon; bring them up in the interview to show you have sought after value already being acknowledged before you have a diploma in your hands.
In short, if you're juggling multiple bowling pins, be sure to state each one in the interview. If the employer is led to assume you're taking naps in between performing well in class, when in reality you're dependent on disciplined time management because you're responsible for more than just letter grades: that's a big problem.
Do background research. 
Any efforts towards selling yourself to an employer are wasted if you don't do research on who you're talking to: you need to understand your audience. This goes far beyond reading a few excerpts on the companies website about their mission, services, and market.  The question to consider is "how do I frame my statements so that I'm speaking the interviewer's language?". No, we are not lying or manipulating here; we're planning for effective rhetoric. Research more than just the facts and figures of the firm: understand the company's culture and dialect, and dissect them for the principles that shape the firm's values so that you can package your message in terms of the interviewer.
Here's an example of a random sample of employers' ideal attributes in prospective college candidates for my home state of Delaware in 2014. Keep in mind the firm's industry and environment determine what type of character they're seeking: a financial firm in downtown Wilmington, Delaware will have a different order of ideal attributes for prospective candidates than a tech start-up in the San Francisco Bay Area ("Silicon Valley").
If you're fluffing up your feathers in an interview for a job in Northern Delaware and you're not communicating the aspects of your skills and experience that demonstrate your ability to learn (#1), adaptability (#2), and goal-oriented attitude (#3): your "overselling" bullet-points is more than likely selling yourself short.
Lastly, if you receive notice of who will be interviewing you beforehand (which you probably will) make sure you analyze the interviewers background on LinkedIn or a simple Google search. Their recruiting filter could be based on an interesting mixture of company culture and their own work experience. Driving "bottom-line" accomplishments into the ears of an analytic who dances to the tune of numerical metrics won't even scratch the surface of selling yourself.
Form a hypothesis.
Now that we've asked many questions, stated the right problem(s), and did a little research: it's time to form a hypothesis about how the interview might go. It would be impossible to lay out each and every person's particular situation considering what has already been discussed. So let's focus on advantageous tools you can bring out of the lab and into the arena we call "the real world" to be better prepared for the unexpected. What are key skills successful sales professionals use to achieve "win-win" scenarios?
Let's reflect on some insightful idioms:
"Bite your tongue" and "I'm all ears": Many of us wait for our turn to speak when conversing. If you want to communicate effectively and be persuasive in a job interview: learn to moderate what you say and how often you speak. Again, "overselling" bullet-points does you no good. Learn to listen intently to the interviewer so that, when you speak, you sell yourself in a manner that makes sense to the employer. Empathetic listening also demonstrates appealing, professional soft skills and shows you care about what the employer has to offer.
"Bright eyed and bushy tailed": Colorful personalities stand out when human resources has to file through hundreds of resumes printed in black and white. Speak with confidence and enthusiasm. You're given thirty minutes to convince someone you're the best applicant, and since you've done so much prep work for that thirty minutes; you better get their attention. Use expressive hand gestures, project confidence through your posture and facial expressions, and speak from the gut with "a little something extra" sprinkled on your words. No one is interested in a monotone speaker who slouches in their chair with their hands hiding in their pockets.
"Put your cards on the table": Be transparent. Honesty and humility reflect commendable integrity and inform the interviewer you can be trusted. You can't name one person who values untrustworthy behavior: I dare you to try. Be accurate in portraying your experience, abilities, and accolades. This ties in directly with the first idiom in regards to what content you communicate, and goes hand-in-hand with the second idiom in regards to how you communicate your message.
Now that you have more than one rule of thumb…
Construct an experiment.
Practice these basic tools of effective communication as much as you can before the interview. You could do it aloud by yourself, you could integrate them into conversation with a friend or roommate (you'll be shocked at how receptive they'll be to the chat), or you could sign up for a mock interview. Implement them in class with your professor, or apply them during a social gathering. You could do it in a box or with a fox: the means of practice hardly matter as long as you're discovering what works well for you, and what you need to work on. Knowledge isn't power without application.
Iterate, Iterate, Iterate: hammer at your craft until it goes your way.
Hard work beats talent when talent doesn't work hard.

-Tim Notke
Analyze the results and draw a conclusion. 
Evaluate your performance  before you applied these suggestions in the first-quarter, then compare it to your performance after this half-time pep talk. How did you hold up in the interview when it was fourth-quarter with thirty seconds left on the clock? Did you close well? Were they sold? Did you get that job offer?
But most important of all: Are you happy with the results?
Hopefully, the outcome aligns with everything you defined when "asking questions".
Science is a powerful tool and effective when used to figure out how "stuff" works. Now that we've touched on how effectively selling yourself works, rather than unintentionally selling yourself short, those employers and HR representatives better watch out. You're armed and dangerous.