I've been asked how my paintings, drawings or even notebook doodles have been done: "How did you do that?". The answer is learn from my mistakes, but I usually pause and daydream before I provide an explanation.
I picture myself whipping up a masterpiece right out of bed without breaking a sweat. Then the fake background prop falls over and I look like a hack on my high-horse stage. I wish a swift stroke answered "how did", the way that string of "you do that" sounds like a single movement. But it's not one movement, it's not even sequential movements; it's a tangled process.
Despite what newcomers think, the process falls short of romantic. It's grunt work starting with rough outlines, diving into idea creation, fixing tons of messes, scrapping, cropping, and ending with a product different than you expect. This flux comes natural to an artist's creative process.
Learn from your mistakes like an artist
Similarly, we go through life riding highs and lows. Both wins and losses will mold our feelings and actions.
The hiccups may hurt, but learning from mistakes will leave you content wherever you stand. Learning from your mistakes means using your flukes as fuel for creativity.
Embrace the failure
We're force fed rules like "accentuate the positive", which is the same as saying "run scared from the negative". You can't have a crest without a trough, the same way appreciating happiness is difficult without first knowing misery. Both sides complement each other, so it's easier to appreciate meaningful things if you savor the pain.
You can bite, kick, and claw all you want but life will still catch you in its undertow. If you welcome your spills, if you embrace your smears: you'll reflect on your exploration as a fulfilling self-portrait.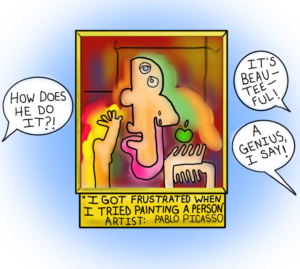 I'll admit owning up to mistakes is difficult. Our pride fights dirty before surrendering. Learning from mistakes requires taking punches when you deserve them. You'll feel less defeated next time if you fess up.
Mistakes are always forgivable if one has the courage to admit them.
-Bruce Lee
Write out the events
Learn from your mistakes by analyzing what took off and what crashed. I would suggest outlining the details leading to your mistake on paper. I spend a few extra bucks on a hardback journal with a tassel to track my place and a strap or lock to protect my thoughts. By using a personalized journal, I hold myself accountable and dedicate time to filling pages: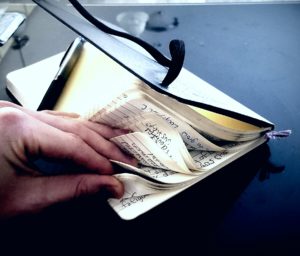 Making the time for writing your thoughts erases self-criticism and mental clutter. Julia Cameron suggests
writing three pages right out of bed. Dubbed "morning pages", Cameron and her students write three pages each morning, no matter what is written, to hack self-criticism away for a day of unrestrained thinking. Cameron says her form of scribbling meditation centers our viewpoint, freeing us to take a step back for interpretation rather than self-loathing.
We tend to think being hard on ourselves will make us strong. But it is cherishing ourselves that gives us strength.
-Julia Cameron, The Artist's Way
No hopeful shortcuts or crutches
It's easy to fall into temptations after screwing up. From procrastinating, to binge streaming, buying into scams: we all have pitfalls for supplementing self-esteem. We sacrifice our good judgement to believe the promises of quick success tips. We justify crutches by exaggerating our pain; our skinned knee is really a cracked leg bone.
There's no magic pill, new app, or secret program that will get you back on your feet. A disciplined regime will nurse you to recovery. Avoiding shortcuts or crutches demands scheduling daily work, breaks, exercise, and rest.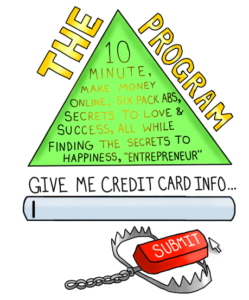 The biggest bear trap isn't the most recent slip, but quitting altogether. If you build your routine into habit, you'll drive on auto-pilot and learn from your mistakes with a passenger's view. Quitting will hurl your skills and effort into a waste basket.
Sometimes courage is not a lion's roar, but a whisper that says 'I will try again tomorrow'.

-Mary Anne Radmacher
Great output takes time and energy
We only have so much willpower, so maintaining a routine is key to keeping us afloat when working. Although discipline may be our life preserver, it won't paddle us out of the water. Kicking those legs eats up time, energy, and the will to tolerate disappointing results.
If our progress stagnates, finding a convenient distraction pulls our attention: drawing faint eyelashes before you've finished painting a face. It's an easy time waster disguised as a standalone task on your checklist. Convenience is expected with many everyday functions, whether it's user-friendly products or beautiful art that makes painting look easy. But, these things went through many mutations before they were packaged or framed, and you can bet the creator yanked his hair out along the way.
Successful people are not gifted; they just work hard, then succeed on purpose.
– G.K. Nielson
I figured out how to draw well or use the right colors for a painting because I've obsessed over it for more than 20 years, spending several hours a day doing it. I've flailed through many frustrating, uninspired fits. Through the tantrums, I've always found the next layer to add until I finish the product. But only because I kept going forward.
Artists critique, rinse and repeat
To learn from your mistakes, you must adopt a layered recipe. When running toward a goal, accept a few trips along the way. It's best to figure out why you fell. You shouldn't lean on a crutch out of shame, or cut corners out of pride. The best wins accumulate piles of mistakes first. It's important to persevere, knowing a good use of time is the most potent ingredient in success.